Welcome to Our Jacobean/Elizabethan Fashion Show
It is the Princess Elizabeth the fair daughter of James I who shall be your hostess today. She is wearing one of our full farthingales -you can even rest a heavy book upon it-Beautiful white flounces as well! And to think that she could have been made queen had the plotters won the day!
Yes indeed, it is His Majesty King James I first down the ramp in 1604 to kick off our latest collection. He is wearing a very popular styled suit with doublet slightly padded at the front. The paned trunk -hose are padded into a smooth shape. The velvet, the brightest on the market, is - dare we say- almost "explosive".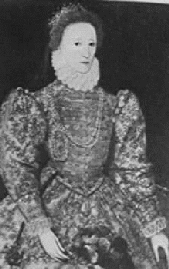 We just couldn't resist this revival of one of our classic gowns made for the late Queen Elizabeth I in 1580. The trademark curved seam running down the outside of the arm is styled to be worn under a long hanging sleeve. We still feature this sleeve style with the fine braid decorating it on the outside as worn here. As always we pride ourselves on the many layers of fine fabrics and bright silks and the many folds which add a sculpted depth to our bodices and kirtles (petticoats).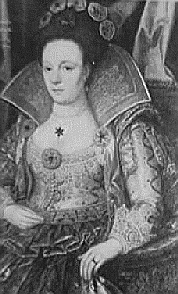 Francis Cavendish, Lady Maynard, in 1615, shows off a brilliant collar and a rich,softly pleated flounce unsupported by a farthingale. Our flounces make the wearers the very flower of the gown itself. We can work wonders on unshapely bodies with "pairs of bodies," a corset which is stiffened with either the finest bents or whalebone. We can be flexible and can provide low square necklines or a loose gown over a waistless kirtle. Let us know.
Here comes Mrs. Ralph Sheldon from 1590 wearing one of our black silk damask gowns It features the ever-fashionable big sleeves. It can be either bombasted or born out over whalebones over a kirtle of light brown and pale grey silk woven in a pattern of acorns, roses and other flowers, with silver metal thread in the weft. The skirt is supported with a half roll and is caught up with a tuck at the front.
We end with another favorite from the immortal collection of our late Queen Elizabeth I from 1595. Still popular, these elegant gowns with carefully pleated flounces create even of the most ordinary woman an elegant flower.
This ends our most recent collection of elegant court creations. As you can see, despite the Scots now arriving at the court in ever greater numbers, the glory of our tradition continues.
This Show Sponsored by:
Gunpowder Farthingales
"Strong as the halls of Parliament"


Farthingale I
Our Farthingales are so strong you can rest your arm upon them. Hooks holding the fabric on are strong and may be moved as needed. Osiers or Whalebone Hoops are fixed externally with strong casings. We use a special scarf joint to hold the hoops together (shown). A Farthingale is a petticoat held out with stiff hoops, sometimes dramatically at right angles to the waist.
Arnold,Janet, Patterns of Fashion,The cut and construction of clothes for men and women c. 1550-1620, Drama Book, New York,1995.

Interested in clothing? Check out these links!
How do you dress your Guy? Let us know! <! ----- END OF LINK AND FEEDBACK ------!>