The original movie
was a RKO/Argosy
Radio Picture
(the two companies
merged for this one film)
Now it is available
from Turner.

Where is the
african scene
in the beginning
-is it real? We
don't know!

The name of
Jill's Doll was
Genoveve. She
found that dolls were
boring and left her
for her father to
pick up on the front
path when joe arrived.

Jill offered the men
(who did not speak
Swahili - Jill did!) Beads,
three coins
a jack in-a -box
(which nearly ruined the
deal as the men were
almost scared off when
they opened it!) and
her father's flashlight
(which she was very
guilty about trading
because it was not hers.)

If we can assume
that Joe was
around 1 year of age
when we first met him
he must have been
about 13 then he
first met Mr. O'Hara.
He was not then
at least in
human terms,
an adult when he was
provoked into
his first violent
incident.

The Golden Safari
Club was Quite impressive.
The motif was African as if
set within a Tropical Rain Forest.
Behind the long bar there
was a lion habitat -filled with
extra large lions imported
from Africa behind a thick glass.
On either side of the top of
the arch over the stage were
rustic African decks
(roofed) which held members
of the band. There was a typical African swinging rope
bridge between the two
band decks on either side
of the stage opening
at the top. A large palisade
screen made of heavy
logs came down in between
acts.There was a large flat
floor filled with tables crowded
with guests with waitresses and
cigarette sales girls walking
about. There were also balcony
seats high above the floor.
Everything seemed to be
supported by large tropical
trees. The bar was known for
a cocktail it was called : "the
king of beasts"

The show was introduced
by a wild African dance by
drumming natives in exotic headdresses. Next Max
introduced Jill who was
lifted up by Joe on a round
stage
while playing Beautiful
Dreamer on the
piano . Then
followed the tug -o-War
with the strongmen who
were introduced. In turn
each performed a feat of
strength.
Some of them were real
wrestlers of the time.
Those using their own
names are marked with an *
They were (feats listed)
Sammy Stein*
breaks chain
Killer Karl Davis*
bends crowbar
(Ivan)Rasputain the
Mad Russian*
breaks chain handcuffs
Bomber Clodkey
lifts heavy barbell weight
Slammin Sammie Menacker*
rips a phone book in half
Max the Iron Man
bends rail spike
(William)Wee Willie Davis*
bends heavy bar
around his neck
(a member of the
audience
notes that
he seems to have fur!)
Man Mountain Dean
bends a horse shoe
The Swedish Angel
breaks a rail tie over
his neck
Primo Carnera*
pops metal bands off
his arm muscles
(former heavyweight
champion of the World)
All are dressed in leopard
skin designed athletic
costumes with belts.
Carnera and others wear
medals. He is the last
and is dunked like a tea
bag by Joe in the water.
He then stages a mock fight
with Joe. After
which he is thrown into
the hall where he
lands on and crushes
a table.

The stop-action animation
team won an Oscar for the
movie (special effects 1949).
Did you know that
some of the lions were
animations? Stop-action
puppets also stood in
for Terry Moore,
Ben Johnson,
Robert Armstrong and
some others.
(Usually where
they had to be close
to the animated figures).
Harryhausen
(who once worked with
Theodor Geisel- Dr. Seuss
making army training films)
did 85% of the Animation.
There were four
models of Joe.
Harryhausen
(showed here with one)
prefered one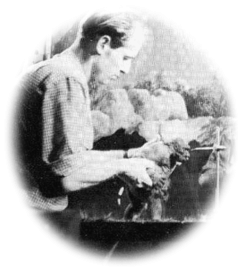 .
The animated models for the creatures were supported by flexable armatures. These were designed by Harryhausen and Obie and made by Harry Cunningham. The armatures were
made of small machine milld pieces
with ball and socket joints
so that they could be moved in any direction. Muscles were formed with foam rubber and the face was
made with wires inside so it could be moved independently.
The fur was made by
George Laughrin and armatures
were covered by Marcel Delgado
(who had worked on King Kong).
The basic technique for
filming was
miniature rear projection.
There were some split
screens done in-camera
others by front projection
and rear projection.
Some shots used and optical
printer.
Hand made mattes were
used to remove unwanted
details and move models into the
background.
The camera was not moved
very much . 350 shots had to
be made. Motion was removed
where possible to save time.
Max OHara's office is
marked on the door:"Max O'Hara Private" His
office is decorated with
objects from Africa
especially unusual is a
large chair made
from elephant tusks.
The scene where
Joe is given alcohol
turns up frequently
in anti- drinking films.
Is this the only movie
when cowboys
go to Africa
and remain dressed
and act like cowboys
- rope and ride?
Do you have
anything to add?
If so... e.mail us by
clicking
Here!
Joe is a large Gorilla who was raised from a baby after Jill purchased him from slavery from two Native African Africans for the price of her father's Flashlight. She said to them " have fine things...you trade with me for that...(meaning Joe)" Jill was lonely. Her mother had died and her father was a busy man. Jill said of Joe: "he's better than a doll I can play with him". Jill hid Joe, as a surprise, in her father's bed. He almost killed Joe with his gun when he found him there. Jill's father eventually took to the young Joe and said of him "how the little fellow loves his milk". Jill brought up Joe to be a sober and upright citizen who was very obedient to Jill . Jill taught him to calm down and sleep to the tune of Beautiful Dreamer. (for the Midi click here!).
Mr. Young protected Jill and had a natural suspicion of mankind - especially men with horses and guns, (he also did not like Lions, nor fire) that is until Jill introduced him to the businessman-Max O'Hara and his friends. Hear what Joe had to say to the cowboys click here for .wav While O'Hara was never really comfortable around Joe, Gregg Johnson, the famous cowboy (one of O'Hara's associates) did develop a comfortable relationship with the lovable primate. (he once said: "I can control him as much as she ( Jill) can".) Gregg was introduced to Max by a letter from Tex Woods. Gregg was a champion roper from Oklahoma. His act had just closed at Madison Square Garden. Max employed him (though late for a dentist appointment and in a hurry) and his friends to rope lions. One of Max's associates told a secretary: "Who do you think is going to get the worst of this- Maxie or Africa...?

One day 12 years later Jill met the New York /Hollywood businessman- Max O'Hara (Mr. O'Hara's office was located in room number 1012 of a building in New York which appears to be somewhere near Times Square) who convinced Jill to sign a contract which would bring both Jill and Mr. Young to Hollywood to appear in an extravagant nightclub act- one with an African theme which was to include live lions and strongmen.

O'Hara and Johnson along with their safari party met Joe on Jill's property while they were gathering lions. It is at this time when we first see Joe become angry. He was carefully examining a lion in a cage when his hand got a bit too close and the lion bit him.

This angered our Joe who broke the cage and then chased the lion. Johnson and other cowboys first tried to rope Joe but this turned out to be impossible. Joe pulled riders off horses and snapped ropes. Johnson grabbed a big log and started to beat Joe with it. This outrage caused Joe to become ever- more violent and to grab Mr. O'Hara. At this point Johnson was about to shoot Joe when Jill intervened saving his life. Eventually Johnson and O'Hara travel to Jill's house (at Jill's house an African woman employee had this to say to Johnson: click here for .wav- What language is this?) where she is offered a contract by the pushy O'Hara. Johnson helps Jill to think more closely about the contract. She notes that her father had died months ago. She agrees to go with O'Hara (who claims he is a: "streight shooter") and Johnson to Hollywood.
Mr. O'Hara's Club was known as "Max O'Hara's Golden Safari". Large lights were set up advertising: "Max O'Hara's Golden Safari Staring Mr. Joseph Young of Africa". Jill was billed as "The Jungle Queen". Joe became famous for lifting up Jill while she played his favorite song on the piano.
Joe was also required to have a tug-O-war with 10 strongmen
and stage a mock fight with them.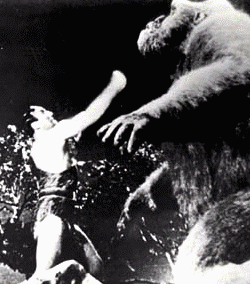 He clearly did not enjoy doing this. While in Hollywood Jill developed a close friendship with cowboy performer -Gregg Johnson -who she had met and had protected from Joe when he came to Africa Max.
Joe and Jill found great success at the Hollywood nightclub. Jill had always wanted to become famous and she was mobbed for autographs and free passes when walking the streets.
Joe however, became very sad as a result of being confined in a cell with bars. He went off his food and pushed his bowl away when served. His cage was dismal -in a basement with the only window looking out over the garbage cans in the alley.
It was 10 weeks ( the billboard read"10th Mammoth week") into the show when Jill, Joe, and Gregg concluded that it was indeed time to go back to Africa, however Max convinced Jill to stay on. Weeks went by and Joe continued the unhappy business of performing in the nightclub. His act was extended to include a degrading appearance as an organ grinder' s monkey. Jill at one time said: "a week feels like 10 years..." None the less Joe maintained his composure and good nature- a model of tolerance.
After Joe was forced to act as a large monkey while Jill acted as organ grinder while patrons of the night club threw big coins at him (one said: "big coins for the big monkey..." -the coins if picked up by Joe would win a bottle of champagne) both Jill and Gregg resolved to quit and take Joe back to Africa. They both regretted bringing Joe to the U.S.A.. Joe, they said, had become a clown. (Gregg had noted earlier that Jill was under age and could not be held by her contract) While they were discussing this at a Chinese eatery (its window marked "Chopseuy") the two fell in love ("Great day in the morning...." -a RKO film title- said Gregg when realizing that he was in love!) A waiter was about to deliver the check when he stumbled upon this historic tender moment - he blushed and moved back-(Who played that waiter?- a nice touch!)
Gregg said: "listen Jill you can't go around asking guys to go to Africa with you..." but Gregg then resolved to come to Africa with Jill and help Joe get out too. This occured sometime around the "17th Colossal Week" as the nightclub sign read.
One night several drunken patrons of the nightclub who had been irritated by Mr. O'Hara (he had forced them to pay for a cigarette girl's wares after they had poured their drink into her tray). visited Mr. Young. These men brought Joe liquor (four quarts) and taught him how to drink it. One said: "give him a drink...make him feel good like us..." . Another said: "try it -it will grow hair on your chest...". Another said: "can you imagine the size of his hangover..." Earlier one of these men had thrown a bottle at Joe which hit him and caused him to become enraged at which point the show was shut down. They taunted him as he became drunk. One man took out a cigarette lighter and burned Joe. Mr. Young could not take any more of this abuse and, understandably, flew into a rage. His anger was so great that he destroyed his cage and chased the men who ran into the nightclub. The men came on to the set from behind the scenes and Joe crashed through the set through a tree on stage right.
Following this outrage the drunken Joe continued to rampage through the nightclub breaking down the sets, sending the musicians who had rushed to the swinging rope bridge, crashing to the ground and releasing the lions some of which he killed. Joe threw the piano and a Bass down onto the crowd before swinging across the hall. Joe lands at one point on a roofed side box and seems to burp! Joe manages to throw a number of lions around killing perhaps 3. He actually saved his tormentor from a lion (but the drunken man claims that Joe attacked him on his exit from the club!). Eventually a group of lions gang up on Joe jumping on his back. Joe is then knocked on the head and trapped within the rubble. Jill finds her way into the club and goes to Joe's side. Meanwhile Max and Gregg lock the club doors and fell a large tree to block the entrance. As the destruction continued the police were summoned .The police make it into the club and shots are heard- we wonder about Joe's safety! Note that Joe does not rampage through the town. He agrees to be peacefully lead back to his cage by Jill and Gregg.
Next we find the principals at a trial where a court order is issued which commands the police to shoot Joe. He has been placed in a much stronger cage under armed police guard. Sometime after 8 o'clock one night four policemen set out to shoot Joe. Jill worries - police officer encourages her not to stay around for the disturbing shooting. She then joins Gregg and Max who have a plan. Max feels his heavy responsibility for getting Mr. Young into all of this. They have to get Joe to a freighter in the harbor which will sail at 6 A.M..
Max pretends to visit Joe for the last time. "I should have left you in Africa where you belong.." he says. He fakes a heart attack and is taken by the policeman to his office to recover. Jill then sneaks in to visit Joe and opens the cage with the key- she has trouble with this and barely gets it done in time. Meanwhile the policemen finally arrive with the court order and enter O'Hara's office. As they are in a hurry Max can not delay them (one of the officers has a date).The officers head down to shoot Joe. Max then cuts the telephone line and drops a map on the floor in order to throw the police off. It is a map of Los Vegas. Gregg backs up a moving and storage truck to the building to pick up Joe ( Great Western No. 338 Great Western Van and Storage"Nationwide Moving and Storage").
Police are locked in the basement by Max. The police car driver policeman is tricked to go into Max's office. Meanwhile Max's assistant opens the hood and disables the car. Max gets into the car and heads to meet up with the van,
The Police break out of the basement and out of the front door which Max had locked and find the car disabled- they call for transportation. Max and his driver meanwhile meet the van with Joe, Jill' and Gregg at a cross street. While both vehicles are moving Max crosses from his car to the van and hops into the cab. Meanwhile the police join the chase-they do not fall for Max's ploy and head after the
van . Gregg notes that the van needs air in a front tire. Over the radio an advisory is heard - shoot on sight is ordered. While van is getting air a hobo tries to open the back and hitch a ride but is instead frightened by Joe. (The Gas station is marked:"Calthane Gas" sp?).
The hobo raises the alarm at a local police station to which he is brought by an Irish policeman who takes him for drunk and suggests he may have seen the banshee. The officer at the desk recognizes his "old man's lingo" and states:"this is the real thing" and collects details. The radio broadcast then indicates the position of the van at "Twain and Tilden...going south" (?)
While the van is on its way a truck is encountered parked across the road blocking traffic. After a fight with the driver Gregg eventually knocks him out. The driver is placed in the moving van and Joe is placed into the driver's truck. Max takes the van in one direction while Gregg and Jill proceed with Joe in the truck, in an other. Joe waves defiantly out of the tarp door covering the back of the truck as it proceeds along the back way to the harbor. The police follow Max in the van and Max is pulled over. Max holds them back as best as he can but the police prevail, open the van, and train their guns on the driver who is waking up and says: "hey where's my truck...somebody stole my truck..."
Max pretends to have a heart attack- the police tell him to get in and have it in the police car.
Meanwhile Gregg and Jill in the truck carrying Joe pass a hamburger stand and run toward a bridge which is out and under construction. Diverting around the bridge to the left they run into loose dirt and get stuck. Joe is ordered out to help but he strains to no avail to free the truck. Meanwhile police are told by folks in the hamburger stand of the direction of the truck. Just as they are catching up Joe frees the truck and jumps in just as they get off a few shots. The police too are stuck in the dirt and shoot several more times. Max gets out to try to stop them- Max declines to help the officers free the car. They are left putting branches under the tires and pushing their car while we follow the truck with Jill and Gregg driving away toward a burning building.
Jill tells Gregg to drive in and they see children in nightgowns heading out of a large Victorian , multistory structure with towers. The film at this point is tinted red (a special technicolor two negative tinting and toning process) to highlight the flames and build atmosphere. The sign above the door reads faintly: "Blaodit (Sp?) Children's Home" A woman shouts out that 2 more children are left upstairs. Jill makes it in and up the stairs while Gregg is stopped by the collapsing burning stairway. He turns instead to climb up a rope outside of the structure. Gregg enters the building and meets up with Jill who finds two children in the closet of a nursery room. They head to the roof to safety but can not get out because the shutters are fastened. Joe arrives climbing up a tree and bashes through the shutters and lets them out onto the ledge. Gregg nearly falls backwards off the corner of the roof. He wraps the children up in a blanket and lowers them down a rope on the outside of the building. Meanwhile, Joe grabs Jill and heads down the tree once slipping, once dropping Jill into the branches. He picks her up and then heads down the tree as the children are lowered to the ground.
Gregg slides down to safety along his rope.
Just as everyone was thinking that the rescue was over a little child climbed out of the burning building teetering onto a ledge at the very top. Joe tried climbing the big tree. Gregg tried climbing his rope. Unfortunately the rope was burning and could not hold his weight. Joe went up the tree but it caught on fire and the flames would not let him down. Once at the top of the tree Joe reached out and grabbed the child but could not bring it to safety because the flames were coming up the tree at him. Joe went higher and higher up the tree with the child. The police car arrives and the policemen begin to try to shoot Joe. Max pushes their guns down just then a chunk of the building falls on and burns the police cars .Eventually Joe's tree fell stopping just short of the ground carrying Joe and the child. While it seemed that the child was safe just at that moment a large portion of the burning building collapsed and Joe, using all of his strength and endurance pushed the child to safety while he himself is partially covered with debris.
Then... next to the slumped and perhaps dying Joe, Max says that no one would shoot at Joe now.
The next scene shifts to later in time at the New York offices of the Nightclub owner-Max O'Hara (Room 1012) The door reads: "Max O'Hara Super Productions 1012".
He is planning a new show involving swimming girls. His partner -Windy has a movie projector and screen set up in the office and turns it on. The movie (taken by Max's safari guide Crawford) shows Jill , Gregg and Joe greeting the Max from Africa. Max is still frightened of Joe even in the movie! The Gregg lassoes Jill and Joe eats a Banana.
The last words:from Max: "and they lived happily ever after....I sure hope so...they are back home where they belong."
on the screen:
"Good Bye From Joe Young"
-to be continued and edited...
Thus endith the one true story of Mr. Joe Young of Africa c.1949-Re-Told by C.Bladey -for this research project.
Sources:
Mighty Joe Young.,Turner Home Entertainment,1989
Film Fantasy Scrapbook , Ray Harryhausen / Published 1981
(see also the links page via the main menu)