The Wardrobe and Treasures of Helen A. Linthicum
In the collection of the Maryland Historical Society, Baltimore: (MDHS Acc. # 1968.49.1,2) Donated by her niece, Mrs. George Vietheer, via the Maryland State Society of the DAR. One of the dresses, 1968.49.2 was exhibited in 1982 It is a 2-piece dress of white silk twill with a blue iris and green leaf pattern. The other dress is a dinner gown of blue satin with a woven floral pattern. Both bear the dress label "Miss S.J. Watts."
Mrs. Linthicum stipulated in her will that her jewelry as detailed there should be sold to benefit the construction of the Chapel at St. Paul's School for Boys in Baltimore, Maryland. This was done. However, many many more objects than were detailed in the will went to the sale which occurred following her death in 1944. There were a total of 1139 lots with some of the lots consisting of multiple items. I reproduce here the title page and two pages of the inventory. More pages will be provided as time permits.
For the sale catalog go here click
For the photos from the first Sun article click here
She Had Something to Wear
Betsy Mason
Auction-sale addicts who in their time have seen many odd things go under the hammer, have probably met nothing to compare with a venue which will take place this week on Howard Street. Preceded by an exhibition on Tuesday, the bidding will take place on Wednesday, Thursday and Friday, when the wardrobe and a great quantity of personal effects belonging to the late Mrs. J. Charles Linthicum will go under the hammer.
Known personally to hundreds of Baltimoreans, and by sight during a long life which was terminated last February by her death at 705 St. Paul street, to thousands more, Mrs. Linthicum is reputed to have been on of the most elaborately gowned women in this city or in Washington ,where she spent much of her time while her husband was a member of Congress. That this reputation was richly deserved is evident from the dresses and hats, the lingerie and the accessories she left to a niece under whose direction they are to be dispersed.
dating in some instances back to the Civil War Period, these articles of apparel form a unique chronicle of fashion at its highest extreme and in lavish abundance. In a day when large hats were in style, Mrs. Linthicum's were the largest obtainable. When the mode dictated ostrich plumes, those which nodded above Mrs. Linthicum's carefully coiffed head were the longest and most abundant in any assemblage. If cabbage roses were "the thing," hers were the size of prize winning dahlias.
Seven Barrels of Shoes
Materials which went into her house and street dresses and evening gowns were the finest that money could buy, and were chosen, usually in flamboyant colors or the most delicate pastels. Not content with silks that "would stand alone" in n era when this was a criterion of quality, she had them smothered with lace-real lace- and decked with beads and embroidery.. Shoes, gloves-many of which look as if they had been made to order in Paris-silk handkerchiefs and hosiery were acquired and preserved in such quantity that it seems impossible their owner would have known how much of them she possessed but an idea may be had from the fact that seven barrels of shoes and evening slippers were given away before any were assembled for auction, and about 35 pairs of Mrs. Linthicum's five-and-a-halfs will be offered to the highest bidders.
Included in the 50 hats, any one of which can be described conservatively as "a honey" which are listed in the catalog is a bright purple number of maline and straw with its five-inch crown encircled by a matching plume 30 inches long. A brown velvet for winter has a greenish blue plume which measures 32 inches; and apparently of the same vintage, there is another gigantic thing of black satin which measures 19 by 15 1/4 inches, trimmed with heavy white lace caught with a steel buckle in front and encircled with a sweeping black plume. "A blue velvet hat, trimmed with feathers, some of which have barbs in rainbow tints, would induce any ostrich to take the pledge; and there is a more restrained model of white felt, with its brim caught up coquettishly with a pink rose, trimmed adorned the crown with silver ribbon and draped on the under side with pale green velvet and silver. A cluster of short white ostrich plumes featuring a protruding aigrette serves as a foil for the pink rose on the opposite side of the brim.
Bird of Paradise Plumage
All such hats, however, are in a minor key compared with the one which flaunts the rare and costly plumage of the bird of paradise, now protected by law from the ravages of fashion. The hat on which it appears is brown satin, with a high crown and a narrow brim.
The Gay Nineties were apparently just what the doctor ordered for Mrs. Linthicum's sartorial tastes, and more than one of her evening costumes of this period shows what she could do with the opportunities provided. Typical is a gown of pale blue pompadour silk,., with an overdress of pale blue tissue edged with a border about nine inches wide of point lace. Lace also bedecks the corsage, which is further adorned with beaded embroidery. With this Mrs. Linthicum probably wore a white taffeta petticoat with a knee deep ruffle of pont d'esprit patterned with quilled white satin ribbon and pale blue baby ribbon. For her further adornment there were a muff of shirred white chiffon, edged on each side with ostrich, an ostrich feather boa three yards long and designed to form a cape at the back , and a headdress of the same feathers.
Suggestive of Dolly Varden is a pale yellow evening dress patterned with roses and line throughout with pale pink crepe de chine. Made with a train, it has a plunging "V" neckline in front and is finished at the waistline with big yellow velvet roses. Another yellow dress more vivid in tone and of considerably later vintage, is covered with black lace.
There can be no doubt that its owner rustled regally in a brown velvet lined throughout with stiff taffeta nd made with a skirt that measures five yards around the bottom. An echo of the days when dresses literally swept the ground, it is bound around the lower edge for protection with a band of velvet made for the purpose. The drooping shoulders of the basque snuggle into big sleeves covered with ruffles of lace and elaborate embroidery.
A gray suit for street wear is lined with changeable pink and green silk, made with a dust ruffle and also displaying the velvet binding on the hem. Leg-of-mutton sleeves appear on a printed velvet afternoon dress whose black background is almost covered with multicolored flowers and which scintillates as if the fabric had been dusted with mica.
A simple little evening wrap for use in warm weather is made of pale blue brocade lined with shell pink and with a standing collar flared to frame the face of the wearer. Two-inch ruffles of lace cover the collar and edge a band of wide rose point applied flat down both sides of the front of the wrap, around the sides and up each side of the center back to the neck. There the ends are covered with loops of wide blue satin ribbon and streamers reaching to the bottom of the short coat.
Owned 25 Bed Jackets
Echoes of the early days of automobiles persist in the 12 linen dusters, some of which are apparently of Chinese origin, since they are embroidered heavily with dragons, which Mrs. Linthicum acquired to wear when she fared forth in her sumptuous gasoline carriage-far too elegant to be called a "buggy" Twenty-five lace bed jackets, 150 silk and lace scarves, two suitcases filled with silk stockings- white, pink and black-15 or 20 long gold watch chains and great quantities of trinkets, some valuable and some practically worthless, indicate the scale on which Mrs. Linthicum acquired things which appealed to her.
Nothing, apparently, was ever thrown away. Mrs. Linthicum seems to have bought what appealed to her, whether it was souvenir spoons (she had about 250 of them) a big gold nugget (which she had mounted to wear on a chain around her neck), white galoshes edged with white fur, or dresses which probably cost from $50 to $500 all told, there will be more than 1,100 items in the sale, items which do not include her furs, her finest jewelry, here household furnishings or those things which her legatees decided not to part with. It seems safe to say that when the auctioneer's hammer falls for the last time on this accumulation those who have attended its dispersal will agree that they will not see its like again.- Baltimore Sun, October 1, 1944.(Article goes with Photos Below)
Diamond Auction.
Linthicum Sale Brings $34,155
Bidding sharply by increases of hundreds of dollars for individual lots, 35 jewelry dealers from Baltimore, New York and Philadelphia yesterday purchased an estimated $50,000 in precious stones for $34,155 at the auction of jewelry owned by the late Mrs. Helen A. Linthicum, widow of the former Congressman, J. Charles Linthicum.
The auctioneer at the sale in the Belvedere Hotel said the auction had brought in nearly $90,000 more than the insured values of the gems which had a total weight of more than 106 karats.
Necklace Brings $4,900
The finest lot in the collection consisted of a diamond necklace with five drops which included 162 diamonds with weights varying from one eight to three quarters of a carat and three large diamonds, two of them weighing two carats each and one of thee carats. It was sold to Raymond Hughes, Baltimore dealer for $490 after an opening bid of $3,000.
Earrings Bring $3250
Two diamond earrings studded with stones weighing nearly three carats went to a New York dealer for $3,250 A moonstone-and-diamond necklace brought $880 and a miniature picture frame with 76small diamonds was handed down for $2,375. A solitaire diamond ring with a five-carat stone sold for $2,875.
The lowest final bid was $125 for a small diamond pin. The sales were made for cash with the buyer taking his wares away in his pockets.
Five Baltimore city detectives were on guard against theft.
Most Over 50 Years Old
Most of the jewels many of them 50 years old or more were given to Mrs. Linthicum by her first husband, Gabriel D. Clark who had a jewelry shop at Calvert and water streets before the Baltimore fire of 1904.
Many of the stones were cut in the foreign style., with a series of tiny ledges rather than the straight flat surface cut used by American diamond cutters. Dealers said excellent profits could be made by resale of the stones taken from set pieces because of higher retail prices and because the sales were tax-free.
No Women Bidders
Many women looked admiringly at the bracelets being exhibited but no women bid. One young woman who said her husband was a $40 -a-week clerk looked at the diamond necklace and said, "What I'd give to own that. Id do nothing but look at my neck all day.
The proceeds from the jewelry sale which is the first of a series of auctions to dispose of Mrs.. Linthicum's estate, will go toward the purchase of an altar for the St. Paul/s School for Boys.
Baltimore Sun, October 4, 1944.
To return to the top of this page click here
To return to the main page click here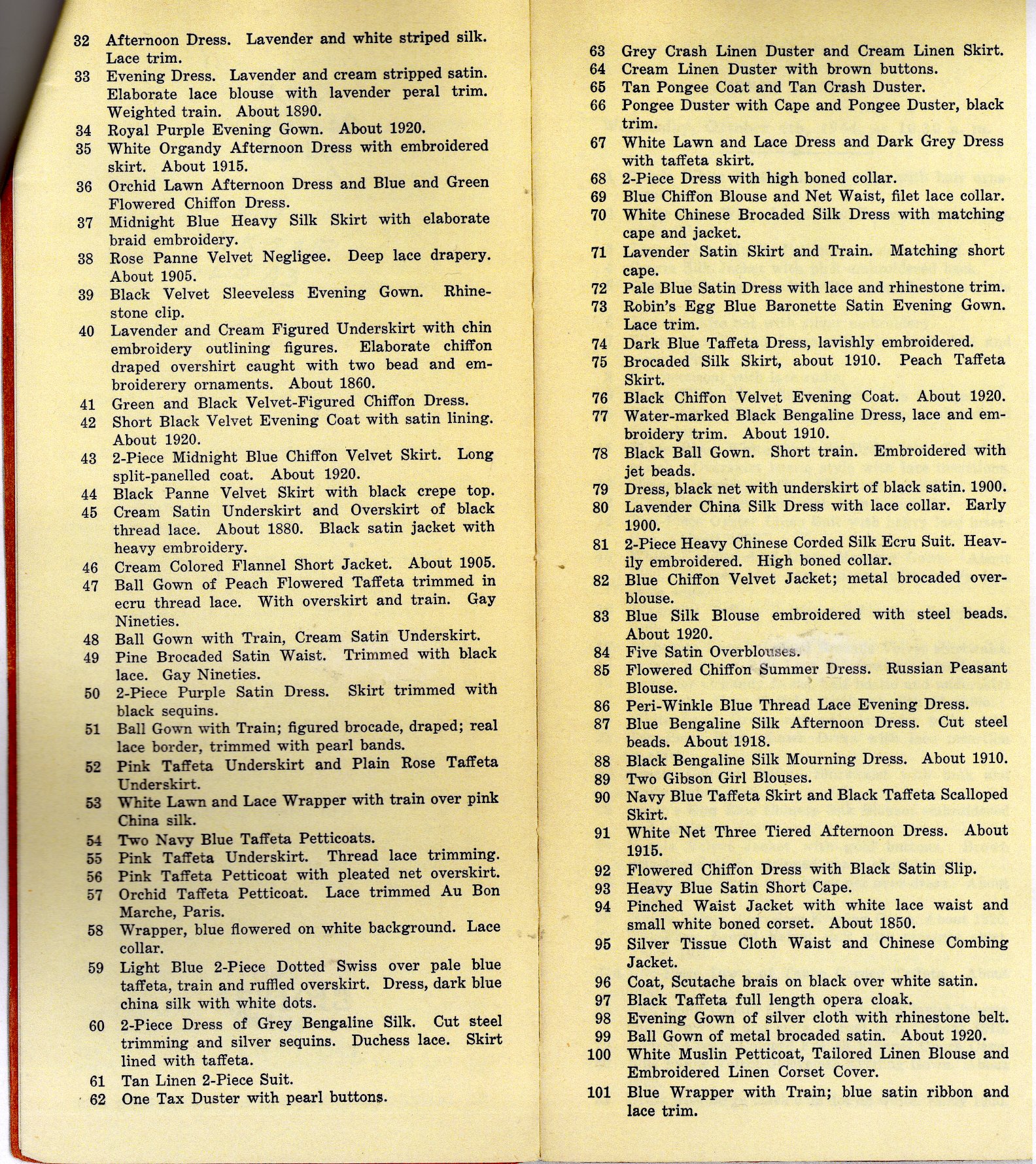 To return to the top of this page click here
To return to the main page click here
Article #1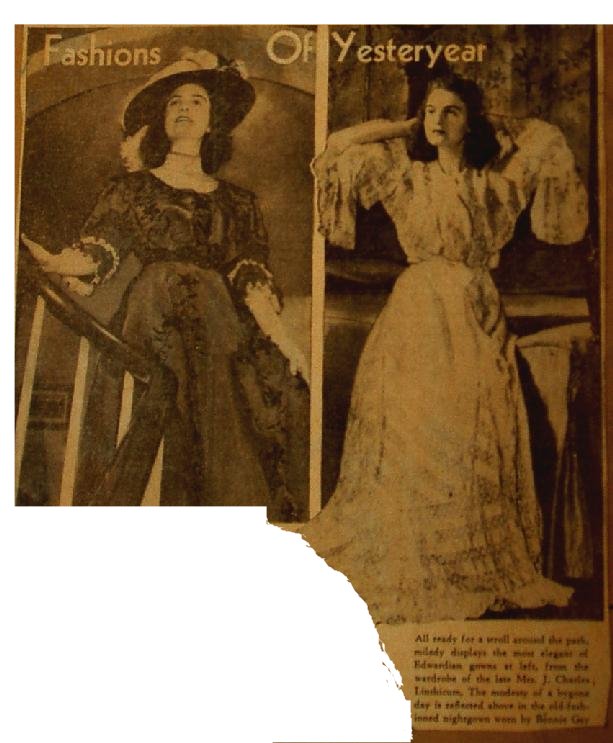 To return to the top of this page click here
To return to the main page click here