Early Mask Traditions



1726 Edition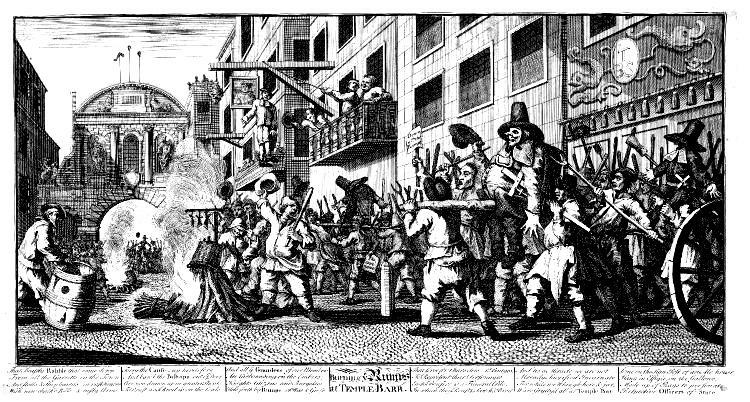 The many functions of the same mask concept/design can be sen in William Hogarth's work of 1725- 1726, " Burning ye Rumps at Temple-Barr. Down with the rump parliament." from Hudibras.

This is an early reference to a procession of effigies, of the rumps being taken to bonfires, which Hogarth illustrates in keeping with the references in the text to the Gunpowder Plot and Butler refers to in terms of thanksgiving. (the celebration of the deliverance from the Gunpowder Treason was considered a Thanksgiving celebration) One can assume that Hogarth is portraying accurately a Guy Fawkes/Bonfire procession of the first quarter of the 18th century.



Hudibras, Samuel Butler.1663-1678, Canto 2, Part III

Who star'd about, as pale as death,
And, for a while, as out of breath,
Till, having gathered up his wits,
He thus began his tale by fits:

That beastly rabble—that came down 1505
From all the garrets—in the town,
And stalls, and shop-boards—in vast swarms,
With new-chalk'd bills—and rusty arms,
To cry the cause—up, heretofore,
And bawl the bishops—out of door; 1510

Are now drawn up—in greater shoals,
To roast—and broil us on the coals,
And all the grandees—of our members
Are carbonading—on the embers;

Knights, citizens, and burgesses— 1515

Held forth by rumps—of pigs and geese,

That serve for characters—and badges

To represent their personages.

Each bonfire is a funeral pile,

In which they roast, and scorch, and broil,

And ev'ry representative

Have vow'd to roast—and broil alive:

And 'tis a miracle we are not

Already sacrific'd incarnate;

For while we wrangle here, and jar, 1525

W are grilly'd all at Temple-bar;

Some, on the sign-post of an ale-house,

Hang in effigy, on the gallows,3

Made up of rags to personate

Respective officers of state; 1530

That, henceforth, they may stand reputed,

Proscrib'd in law, and executed,

And, while the work is carrying on,

Be ready listed under Dun,

That worthy patriot, once the bellows, 1535

And tinder-box of all his fellows ;

Some, on the sign-post of an ale-house,

Hang in effigy, on the gallows,] For, or instead of, a gallows, would, perhaps, be a more correct reading: it is better to hang the effigy on the sign-post, than the original on the lamp-iron.

Who, for his faithful service then,

Is chosen for a fifth agen: 1540

For since the state has made a quint

Of generals, he's listed in 't.s

This worthy, as the world will say,

Is paid in specie, his own way;

For, moulded to the life, in clouts, 1546

They've pick'd from dunghills hereabouts,

He's mounted on a hazel bavin'

A cropp'd malignant baker gave 'em ;

And to the largest bonfire riding,

They've roasted Cook already, and Pride in ;

He's mounted on a hazel bavin] An hazel faggot, such as bakers heat their ovens with.

On whom, in equipage and state,

His scare-crow fellow-members wait,

And march in order, two and two,

As at thanksgivings th' us'd to do;

Each in a tatter'd talisman, 1555

Like vermin in effigy slain.

But, what's more dreadful than the rest,
Those rumps are but the tail o' th' beast,
Set up by popish engineers,
As by the crackers plainly appears; 1560

For none, but Jesuits, have a mission
To preach the faith with ammunition,
And propagate the church with powder;
Their founder was a blown-up soldier.
Those spiritual pioneers o' th' whore's, 1565

That have the charge of all her stores;


1521. Since first they fail'd in their designs,

To take in heav'n by springing mines,

And, with unanswerable barrels

Of gunpowder, dispute their quarrels,

Alluding to the gunpowder-plot, in the reign of James I. supposed to have been conducted by the jesuits, and for which Garnet and Oldcorn suffered.

And, with unanswerable barrels

Of gunpowder, dispute their quarrels, 1570

Now take a course more practicable,

By laying trains to fire the rabble,

And blow us up, in th' open streets,

Disguis'd in rumps, like sambenites,*

More like to ruin and confound, 1575

Than all their doctrines underground.

Nor have they chosen rumps amiss,

For symbols of state-mysteries;

Tho' some suppose, 'twas but to shew

How much they scorn'd the saints, the few,

Who, 'cause they 're wasted to the stumps,

Are represented best by rumps.

But Jesuits have deeper reaches

In all their politic far-fetches;

And from the Coptic priest, Kircherus, 1585

Found out this mystic way to jeer us

For, as the Egyptians us'd by bees

T express their ancient Ptolemies,

And by their stings, the swords they wore,

Held forth authority and pow'r; 1590

Because these subtle animals

Bear all their int'rests in their tails;

And when they 're once impair'd in that,

Are banish'd their well-order'd state:

They thought all governments were best 1596

By hieroglyphic rumps exprest.

For, as in bodies natural,

The rump's the fundament of all;

So, in a commonwealth or realm,

The government is called the helm; 1600

With which, like vessels under sail,

They're turn'd and winded by the tail.

-Butler, Samuel, Hudibras; with notes by T.R. Nash, Vol 2, 1835 (1663-1678).



About Hudibras:


The work is a satirical polemic upon Roundheads, Puritans, Presbyterians and many of the other factions involved in the English Civil War. The work was begun, according to the title page, during the civil war and published in three parts in 1663, 1664 and 1678, with the first edition encompassing all three parts in 1684 (see 1684 in poetry). The Mercurius Aulicus (an early newspaper of the time) reported an unauthorised edition of the first part was already in print in early 1662

Published only four years after Charles II had been restored to the throne and the Protectorate of Oliver Cromwell being completely over, the poem found an appreciative audience. The satire is not balanced as Butler was fiercely royalist and only the parliamentarian side are singled out for ridicule. Butler also uses the work to parody some of the dreadful poetry of the time.

The epic tells the story of Sir Hudibras, a knight errant who is described dramatically and with laudatory praise that is so thickly applied as to be absurd, and the conceited and arrogant person is visible beneath. He is praised for his knowledge of logic despite appearing stupid throughout, but it is his religious fervour which is mainly attacked:
For his Religion, it was fit
To match his learning and his wit;
'Twas Presbyterian true blue;
For he was of that stubborn crew
Of errant saints, whom all men grant
To be the true Church Militant;
Such as do build their faith upon
The holy text of pike and gun;
Decide all controversies by
Infallible artillery;
And prove their doctrine orthodox
By apostolic blows and knocks;
Call fire and sword and desolation,
A godly thorough reformation,
Which always must be carried on,
And still be doing, never done;
As if religion were intended
For nothing else but to be mended.
His squire, Ralpho, is of a similar stamp but makes no claim to great learning, knowing all there is to know from his religion or "new-light", as he calls it. Butler satirises the competing factions at the time of the protectorship by the constant bickering of these two principal characters whose religious opinions should unite them.
These are fawning but barbed portraits and are thought to represent personalities of the times but the actual analogues are, now as then, debatable. "A Key to Hudibras" printed with one of the work's editions (1709) and ascribed to Roger L'Estrange names Sir Samuel Luke as the model for Hudibras. Certainly, the mention of Mamaluke in the poem makes this possible although Butler suggests Hudibras is from the West Country making Henry Rosewell a candidate. The witchfinder, Matthew Hopkins, John Desborough, parliamentarian general, and William Prynne, lawyer, all make appearances, and the character of Sidrophel is variously seen as either William Lilly or Paul Neale

Plot
The knight and his squire sally forth and come upon some people bear-baiting. After deciding that this is anti-Christian they attack the baiters and capture one after defeating the bear. The defeated group of bear-baiters then rallies and renews the attack, capturing the knight and his squire. While in the stock the pair argue on religion.
Part two describes how the knight's imprisoned condition is reported by Fame to a widow Hudibras has been wooing and she comes to see him. With a captive audience, she complains that he does not really love her and he ends up promising to flagellate himself if she frees him. Once free he regrets his promise and debates with Ralpho how to avoid his fate with Ralpho suggesting that oath breaking is next to saintliness:
For breaking of an oath, and lying,
Is but a kind of self-denying;
A Saint-like virtue: and from hence
Some have broke oaths by Providence
Some, to the glory of the Lord,
Perjur'd themselves, and broke their word;
Hudibras then tries to convince Ralpho of the nobility of accepting the beating in his stead but he declines the offer. They are interrupted by a skimmington, a procession where women are celebrated and men made fools. After haranguing the crowd for their lewdness, the knight is pelted with rotten eggs and chased away.
He decides to visit an astrologer, Sidrophel, to ask him how he should woo the widow but they get into an argument and after a fight the knight and squire run off in different directions believing they have killed Sidrophel.
The third part was published 14 years after the first two and is considerably different from the first parts. It picks up from where the second left off with Hudibras going to the widow's house to explain the details of the whipping he had promised to give himself but Ralpho had got there first and told her what had actually happened. Suddenly a group rushes in and gives him a beating and supposing them to be spirits from Sidrophel, rather than hired by the widow, confesses his sins and by extension the sins of the Puritans. Hudibras then visits a lawyer—the profession Butler trained in and one he is well able to satirise—who convinces him to write a letter to the widow. The poem ends with their exchange of letters in which the knight's arguments are rebuffed by the widow.
Before the visit to the lawyer there is a digression of an entire canto in which much fun is had at the events after Oliver Cromwell's death. The succession of his son Richard Cromwell and the squabbles of factions such as the Fifth Monarchists are told with no veil of fiction and no mention of Sir Hudibras.

.-Wikipedia

1751- Gentleman's Magazine, complaint against throwing fireworks into crows and window breaking and fence burning by
masked revellers (Hutton 398)
1835- Cartoon of the Reform Bill and Henry Brogham. "Guy Vaux Guy Vaux, Guy and his companions did contrive to blow up

the king and parliament alive!" Depicts a realistic Guy chaired with a mask. Men with sticks, hat on stick. Man in front waves

mask. Guy has matches and lantern.

- Source: Bodleian, John Johnson Collection. VADS, Note however that none of the participants is masked- the mask is taken to

represent Fawkes.








1846- Lewes, Sussex: "It was with pity and shame I last night beheld the assassin-like and un-English disguise and mask resorted to among




you (the bonfire boys) to avoid recognition. What can be more cowardly? Is this the mode off action for the open-hearted, open-hnanded





manly youth of England?…Throw away the shelter of the Italian Bravo, and appear in your true characters as Englishmen, who can never





feel ashamed of being known, when engaged honestly in a good cause."-M.A. Lower, Observations on the Doings in Lewes on the Evening of





5th November (Lewes, 1846), p. 9-10.


In the print below from the Illustrated London News of 1853 Cruikshank employs a very well-developed mask concept. Note that the mask is used as a shortcut for the construction of the effigy and not as worn by celebrants.

1862 Cruikshank creates the chaired floppy Fawkes engraving below for Chambers Book of Days. Effigy has mask. Head falls forward and has a conical hat with ribbons on it. Children also have masks.


In the engraving above from 1882 depicting celebrations in Exeter we have a glimpse of one version of the mask tradition. Special participants around the bonfire taunt the crowd. No one in the crowd has fancy dress or mask so, perhaps, participants in the drama of bonfire only needed masks both to add to theatrical effects and perhaps to obscure identity.



1903- Kensington, London: "The guy, an unusually large one, was mounted in a small cart drawn by a pony. It was preceeded, first, by a man ringing a bell, and then by two dancers, wearing costumes resembling that of a clown and masks ot the common painted kind sold in the shops at this season, who danced up the street in front of the effigy in the real old style, lifting the arms in the air alternately, in time to the motion of the feet. (They did not sing or shout.) For musicians they had a man playing on a shrill long tin whistle or pipe, and another following the cart beating a drum. A man in women's clothes walked beside the cart, occasionally cuting a clumsy caper, as well s his clinging skirts would allow. The rear of the procession was brought up by the clown, capering and curveting and shaking his money-box. It was a poor vulgar show, no doubt, but it retained in its debased state several of the principal features of the old Morris-dance. There were the time honoured figures of the Fool and the Bessy, accompanying the dancers; the drum and penny whistle represented the ancient tabor and pipe; while the bell which the Fool formerly wore hung at his back, was now carried in the van to inform the householders of the passing of the show(very possibly the original prupose for which the bell was introduced)"- "Guy Fawkes Day", Charlotte S. Burne, in: Folk –Lore, Vol. XXIII. December, 1912, No. IV.p.411-12.


To return to the top of this page click here