This page is dedicated to Guys, Bonfires, and Bonfire Societies worldwide.

We are very interested in your fires, Guys, and personal accounts click here to learn of our search
Select from this table:

We are interested in bringing your creativity , and your organization to the attention of the world.
Use this mail link click here to send us images of your "Guy" and your Bonfire. Bonfire images may be before and during the fire itself. We want to show the spectacular bonfire pyre's.
You may send your images to us via ordinary "snail mail" at:
Center for Fawkesian Pursuits-PO BOX 268 Linthicum Md. 21090 USA


to the top...

---

LEWES BONFIRE CELEBRATIONS 2001 The weather was fine and unseasonally warm for November 5th in Lewes this year, and unlike last year there were no after-effects of floods to be overcome. In retrospect the various Bonfire Societies performed magnificently in 2000 in being able to carry on as normal in spite of the flooding of the River Ouse which had devastated the town so terribly just a few weeks prior to the celebrations. With Bonfire Night falling on a weekday (a Monday) this year the crowds were slightly lower than for the previous couple of years when the festivities took place over a weekend, but this was actually an advantage for Bonfire aficionados as it was far easier to get close to the various events. The schedules were much the same as ever, with the South Street B.S.'s first parade (their children's procession) setting off at 5.45 p.m., and the Cliffe B.S.'s famous "Barrel runs" starting at 6.00 p.m. A foretaste of what was to come came during the Cliffe B.S.'s first procession of the evening when the Archbishop of the Cliffe delivered his opening oration, and made a telling comparison between the terrorism of the Gunpowder Plot and the more recent terrorism which took place on September 11th. The following Bonfire Prayers consequently seemed to be recited with added gusto by the assembled crowd. Those taking part in the various processions seemed to be as high as normal, though there did seem to be slightly fewer bands involved than usual. One very nice touch was that the fire engine paraded by "Ye Olde Cliffe Fire Brigade" displayed a small U.S. flag on top. Probably this year's "Mammoth Grand Realistic Tableau" was the most predictable for many years - certainly as far as the Cliffe B.S. was concerned. Although Osama bin Laden's appearance on the streets of Lewes during the Grand Procession was not unexpected, his circumstances were something of a surprise - for there he was, three times life size, seated on a Royal Dalton toilet with his pantaloons around his ankles, and with the sign "Bindaloo" below him. As the tableau passed by, however, it could be seen that he was being attacked from the rear by a giant American eagle, and a slogan written on the back of the cistern read: "Who's in the shit now!". This tableau must have been planned and constructed at very short notice as international events developed, so the Cliffe's Captain of Tableau, Mr. Brian Jarvis, and his team of workers deserve the highest congratulations for constructing such a magnificent and realistic effigy so quickly. Certainly other societies did not seem to be able to alter their plans in time, for other tableaux on display that evening centred on the recent foot and mouth epidemic and the crisis in the National Health Service. The Cliffe's decision to start charging admission for entry to the Bonfire Site a few years ago certainly seemed to be well vindicated, for the consequent smaller crowds meant it was far easier to see the various effigies being exploded and consumed by fire, and to hear the Archbishop's Bonfire Oration. As well as Guy Fawkes, Pope Paul V and bin Laden, another "Enemy of Bonfire" condemned to fire in effigy this year was a local photographer (believed to be a Roman Catholic) who had evidently caused some trouble in the town during the previous year. On the following day it was most pleasing to see that not only did an excellent picture of the bin Laden tableau appear in the Brighton "Argus", but also on the front page of the prestigious London "Times"! Furthermore, a few days later it also featured in the popular BBC TV satire quiz "Have I Got News For You". International events have therefore helped to place the Lewes Bonfire Celebrations - and the Cliffe B.S, in particular - fully on the map this year. - Alan Harvey

Lewes, Sussex, 1998

The ceremonies this year were as good as ever - with unlike last year no downpour to put a dampener on proceedings! The Cliffe's Mammoth Grand Realistic Tableau was one of their best ever. Entitled "Hard at Work", it featured William Jefferson Clinton, which from a distance looked as if he was clutching an enormous phallus. When the tableau came closer, however, we could see that he was actually sitting astride a cruise missile, with the initials USAF clearly emblazoned on both sides of the mighty weapon. Re- christened "Captain Viagra", he was resplendent in U.S. colours and holding a shield, whilst giant Viagra tablets tumbled around him. It was brilliant! South Street's tableau was entitled "Smoking Seriously Damages Your Wealth", and featured Formula One boss(was Tony Blair, England PM, and not Mr. Ecclestone. Tony was holding onto a rope around a sack of cash, a little gift from Mr. Ecclestone for services that might be rendered!! correction by Kelvin Pope builder of the Tab) in a Jordan Racing Car puffing away at a giant cigarette, with the words "New Labour, Same Shit" painted across his helmet. One new innovation this year was that it was made "ticket only" at the Cliffe Bonfire Site; this didn't worry the party which I was with as it meant that we could have a look at some of the other societies setting off for their bonfire sites, before adjourning to the pub for a few extra pints before the processions returned. One colleague decided to patronise the South Street Bonfire celebrations instead of the Cliffe as he usually does however, and in a way this new "ticket only" policy could be a good move as it will encourage more support for some of the smaller societies. Incidentally, only a few years ago it seemed to be only the Cliffe who retained the tradition of burning (or rather exploding) an effigy of Pope Paul V, but South Street also resumed the tradition a few years back

(From Kelvin Pope:"As for South Street burning the Pope, well we've always burnt the papal effigy and will continue to do so, no matter what the pressures from the so called holy men of England.THE ARCHBISHOP OF ROME HATH NO JURISTICTION IN THIS REALM OF ENGLAND.")

(and indeed their programme was certainly the most fundamental in this regard this year), and I was also most pleased to see that Commercial Square did so as well this year. Also, although Waterloo didn't appear to be carrying out the actual tradition itself, their programme even so made some very interesting references to the true meaning and traditions of Bonfire. Only the Borough seems to have abandoned the tradition almost completely therefore - and it was interesting to note in this regard that some of their leading officials were deemed to be "Enemies of Bonfire" and had their giant head effigies similarly exploded by the Cliffe this year! Before the events of the 5th itself the RC archbishop of Arundel and Brighton called for a "toning down" of the anti-Catholic undertones, a remark which was taken up by certain sections of the media, but most pleasingly this hysterical call was more than adequately rebutted by Society officials, and the traditional ceremonies thus went ahead as normal! Alan D.H. With helpful annotations by Kelvin Pope

From one of our Correspondents on the ground at Lewes 1997:

As promised, a report on this year's Lewes Bonfire festivities, to celebrate the 392nd Anniversary of the Discovery of the Gunpowder Plot, and the 309th Anniversary of the Landing of William, Prince of Orange, at Tor Bay. Alas, as all of you on the South Coast will know, it absolutely teemed down with rain that evening, particularly during the mid and late evening when the actual Bonfire ceremonies were due to take place, and as a result the Bonfire sites undoubtedly became a complete quagmire, so we decided not to make this further excursion. Even so both I and my colleagues had a euphoric (if somewhat drenched) time watching the earlier processions parade through the town. We managed to see the parades of both the Cliffe and the South Street Bonfire Societies, but of course concentrated upon the main processions of the Cliffe B.S. (the tar barrel ceremony, the remembrance parade to the War Memorial and the Grand Procession on its way to the Bonfire site). The Cliffe's "Mammoth Grand Realistic Tableau" this year was entitled "A pat on the way back", and was on the theme of the sell-out and hand over of Hong Kong. It featured a giant Chinaman (who actually looked more like a gorilla - "King Kong"?) clutching a Communist Chinese flag and with his arms grabbing and encircling a fantastically realistic model of the Hong Kong skyline. During recent years the Cliffe have also taken to the idea of burning further giant heads of personages deemed to be "Enemies of Bonfire", and this year there were five of them. Alas three of them I did not recognize (probably obscure local busy-body Lib Dem councilors), but one was a large television screen labeled "television documentaries" (probably some Meridian documentary which I missed must have been less than complimentary to the festivities) and the other - for some obscure reason - was that of the obnoxious Brighton-based negro boxer, Chris Eubank. The size of the crowds this year were naturally slightly down on previous years because of the heavy rain (Radio Brighton evidently estimated only 10,000, but as the Evening Argus had estimated 70,000 in 1996 and I didn't think they were that smaller, I would imagine that this was probably a great under-estimation). It might have been my imagination, but I thought that the numbers actually involved in the Cliffe's processions (and indeed the South Street's also) were larger than ever, which of course is a very encouraging sign for the future. All in all therefore a terrible tragedy about the heavy rain - but there's always 1998 to look forward to ! Alan D. H. to the top...

---

The Center For Fawkesian Pursuits-America's Only (?) Bonfire Society!Linthicum,Md. 1997

It was a wet and sloshy night.....The fire the night before struggled with the elements. The keg was ready to sustain and all worked hard to keep the fire burning over the rocks in the pit. The Guys were readied- photos soon! Tony Blair was the favorite with a few heads he had taken in the recent elections in his chariot (a baby carriage) with its wheel run over a stop sign! The Union flag fluttering from the sun cover- he wore no poppy. Guy stepped out in his pink legs and short pants with black coat and demonic grin- the children liked him the best. The turkey made it into the ground on time and then we set to roasting potatoes and baking bread and steaming the puddings. The rain had ended by the time the crowd of some 30 had gathered. (the faux Fawkeses always deterred by the traditional weather) Incense filled the air from the shrine built a top the turkey pit which was presided over by the Jack-O-Lantern. As the crowd drank beer and wine and ate peanuts the children ran amok in the fall leaves wondering where their food was coming from. The Period music of Byrd and Italian composers of the time filled the air mixed with English Style brass band music and fanfares. Soon with the wife herself growing hungry and the crowd demanding to be fed I was forced to begin the ritual of the evening. The light was lit over the crowd and three teams were formed for the chants. All did a fine job shouting at the top of their lungs to proclaim the annual remembrance. The team representing Worcheshire did the best and pounded the ground right well! It was then time to go over to the pit. When all assembled the steamy earth was torn apart in search of the grand bird! The steam rose up and the air was sage,wine and orange. The turkey was excavated -well done! Just Right. All went inside conveyed by the rich aromas of the earth oven. Carefully without loosing track of the least grain of sand the bird of 35 lbs was carefully excavated cleanly from its shroud of collard leaves and mesh wire. Not a speck of dirt was reported this year! The new Fawkesians looked on in absolute wonder that a turkey should be so well done in the pit. Plates of steamy succulent meat made their way down to the assembled and hungry party. During dinner the crowd watched a video of last years Lewes events complete with the Pope and the jeers! With guests filled with turkey and good sweet beer- a honey lager time for dessert was upon us. We all moved upstairs for the ceremonial reading of the page from Dickens which described the Cratchet's Xmas pudding as the pudding was slid from its pot. Success! The steaming pudding was placed on its tray and ceremoniously paraded out into the yard along with brandy. On the way a sprig of fresh ripened holly was picked and placed on it as a crown. Then it was onward to the cast iron stove out back where the chimney has carved in it a likeness of Guy which spouts fire from the eyes nose mouth and beard. The brandy was heated then flamed then poured over the pudding which became as blue as a police car light in the dark. The crowd went wild and demanded several lightings! Then to the shout "behold the Pudding" all passed by into the house to the dessert table which contained the hard sauce, the saxon pudding and the cakes brought by the guests. As time went on the weaker departed one by one. The bonfire raged in the pit as children made somemores from chocolate graham crackers and marshmallows. Once the children had had their sweets we gathered them together for the traditional Fawkes day message. We talked of the bravery and dedication of those who as plotters held their values high. Then we talked of the plot and the meaning of Terrorism and the need to remember that taking the law into your own hands is an unwise choice. We talked of Father Garnet and of the Jesuit mission. We learned of his bravery in the face of certain death and torture. But we also learned that he did not follow the law but relied too much on his religion and the government of the church. We all were thankful that the plotters were defeated and that the English government continued to improve over the years and that we were relatively free of terrorism in our country. One by one the children selected "corns" from the Jack-O-Lantern container until one got the corn with the face of Garnet upon it- they got the candy reward for listening to be passed out to all! Once the children had gone their way the music of the Whisky Priests filled the air and the men worked on re-cycling the aluminum out back! Then in the morning the job still not quite done.... resumed again...Conrad Bladey, The Center for Fawkesian Pursuits, Linthicum,Md. 1997. to the top...

From: DERRICK GIBSON-HARRIES (Northern Ireland) Guy Fawkes is alive and well in Ulster, in a small way but most definitely still surviving his annual immolation. From my, very slight, elevation on the top of a drumlin I get tantalizing cloud reflected glimpses of other peoples' celebrations, and free firework displays. As far as I can judge Aghagallon, last Protestant moved out last year I was gratuitously told, celebrates Halloween. Aghalee, two miles from Aghagallon, does much better with The Twelfth, Halloween AND Guy Fawkes. There are several Guy Fawkes bonfires, all quite modest, on my skyline each year. When I lived in Armagh, from Cathedral Hill one could see for miles. It was obvious that many Guy Fawkes parties were small back garden affairs in the Protestant areas on the edge of our vision, with the odd bigger fire toward the horizon. I would disagree that "Most British people" see anything even vaguely political about "Bonfire night," unless things have changed drastically since I last had a family bonfire with my children in England. It used to be a child-led event. The children scrounged the wood and other combustibles and bullied and cajoled their parents into buying bigger and better fireworks than the children themselves could afford. At school we were told that it was to celebrate the discovery of a Papish plot to blow up the Houses of Parliament and that to this day there is a guard patrol through the cellars on November 5th, or was it 4th? But we might just as well have been told that it was a "Luddite plot" or a "Flat earth plot" for all it meant to us. It was just a fun thing, an excuse to play with fire and enjoy being up late. A catharsis for the latent pyromaniacs amongst us. I am a naive late developer and was well into my twenties before realising any religious significance to Guy Fawkes, when I wondered why my friends in Dublin did not appear to know about him! to the top...

---

Bonfire Societies: Bonfire societies developed in the 19th century to serve as politically correct Victorian replacements for the free ranging "people power" guys that would roam the streets on the fifth of November. We hope that this page will help you find and get involved with a bonfire society near you. Remember! Bonfire Societies create good times for one and all and maintain a very important tradition. Don't just turn up for the fun! Contact them to volunteer and join in. No matter what your skills are there is a place to help out!
Click here to go to the menu of Bonfire Societies.

For a general history and chronology of bonfire societies go here just click it!

All others Click here
---


A very helpful Lewes Bonfire Page click here

Official Cliffe Bonfire Page

(Lewes) Borough B.S. Official site click here

Commercial Square B.S. click here

Waterloo B.S. click here

LEWES BONFIRE COUNCIL: click here

Neville Junior click here

South Street click here

Littlehampton Bonfire Society
Littlehampton Bonfire Society
Bonfire Celebrations Organiser

Tel.: 01903 725149
46 Kent Road
LITTLHAMPTON
BN17 6LQ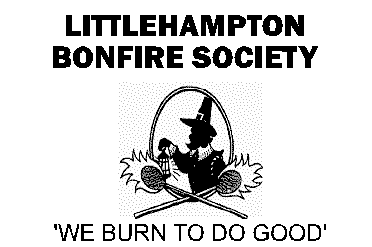 HASTINGS BOROUGH BONFIRE SOCIETY For the Hastings Borough Bonfire Society web page click here
THE RYE & DISTRICT BONFIRE SOCIETY Web Page click here
ICKLESHAM Robin Hood BONFIRE Web Page Click Here-
---
Battel-web page click here (A good source for Sussex Bonfire dates)
Kent Edenbridge Bonfire Society For their web page !
Fletching Bonfire For their web page click here
Eastbourne click here
Barcombe click here
Crowborough click here
Chailey click here
Firle click here
Merrie Harriers click here
Newick click here
Links are only as good as your efforts to update them. If you change your web page address please let me know.
---
The Bonfire e.mail list is designed for those involved with bonfire societies worldwide. It is a good way to share information and to keep in touch with one another. A good place to discuss the issues and find suppliers,technicians and techniques as well. To subscribe to the Bonfire list send an e.mail by clicking here. In the e.mail put your e.mail address and the sentence: please subscribe Bonfire list. You can also search for and join the Bonfire list at: http://www.yahoogroups.com
Just click the address to go there. Those who join the list will have access to an common upload area and a calendar for listing events of interest. This is a great tool- sign up today!
There are two other bonfire related lists available at
Sussexbonfire
Guy Fawkes
---
---
How do you celebrate Guy Fawkes Day? Send us pictures of your Guys and Bonfires- before and after!Send us information concerning your bonfire society! Let us know!