12 Essential Songs of Patriotism and Solidarity
from the Isle of Ireland.

Preface-

-Quote from the Clancys video


Songs of Patriotism and Solidarity occupy a very important place in the musical traditions of the Isle of Ireland. It is important to regard these works primarily as works of art and treasures of creativity. While these are songs which are designed to motivate the human soul as calls to action we all must recognize that their improper use
has the potential to bring pain and suffering. It is my opinion that proper presentation of these songs as historical works of art in a balanced way, including songs from both sides and many perspectives of the issues involved will avoid the dominance of one side over another and serve to defuse the link between historical calls to action and
violent deeds. As the Clancy's have noted: a good song no matter which tradition it comes from is primarily a good song. All good songs are in need of preservation and exercise.

This collection of 12 songs represents the traditions of the entire Isle of Ireland. I believe that this is the proper way to present the music. Musicians should likewise strive to present a balance of songs from all sides in their sets and performances. The perpetuation of imbalance in performance unfairly promotes the music of one tradition at
the expense of the other. In the long run this imbalance will severely injure the tradition which is not played. Such unbalanced performances will also give a misleading impression of the traditions of the entire Isle of Ireland to the audience. If we are ever to have political and cultural reconciliation we must include the active reconciliation and
tolerance of musical traditions on the same stage and within the same sets in the process.

Why only 12 songs? Well.....for one reason....thats all the time I have....but there are many more!

To the main menu click here
To return to the main lesson notes page click here

---

Main Menu and table of contents:
17th to 19th Century Gaelic
The Orange/Loyalist/Unionist Tradition
The Tradition of the Republic of Ireland
To return to the main lesson notes page click here
---

Rósin Dubh/The Small Black Rose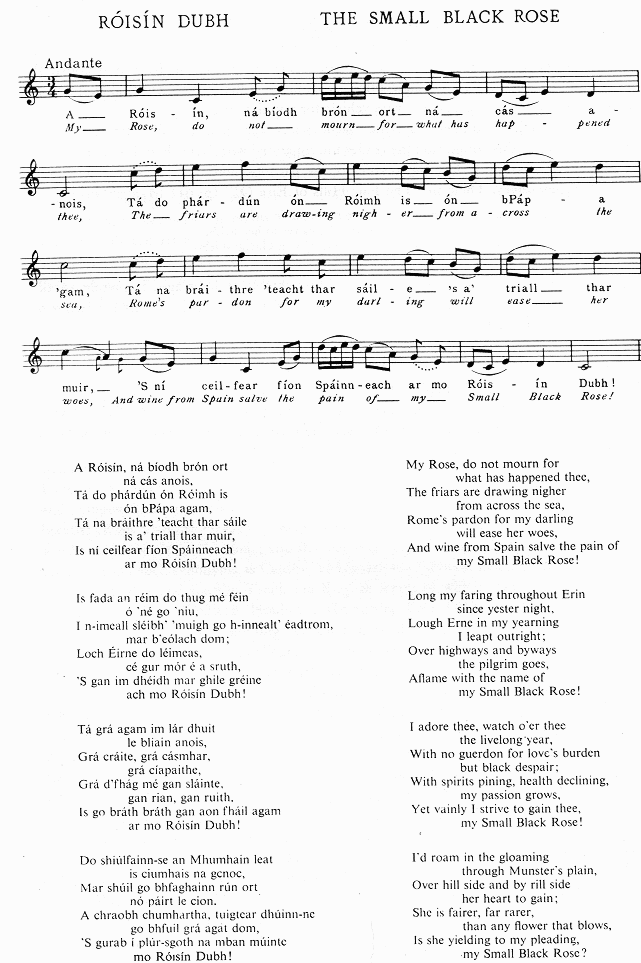 To return to the top click here
---

Caitilin Ni Uallacháin/Cathleen Ni Houlihan

To return to the top click here

---

Priosún Culain Meala/The Gaol of Clonmel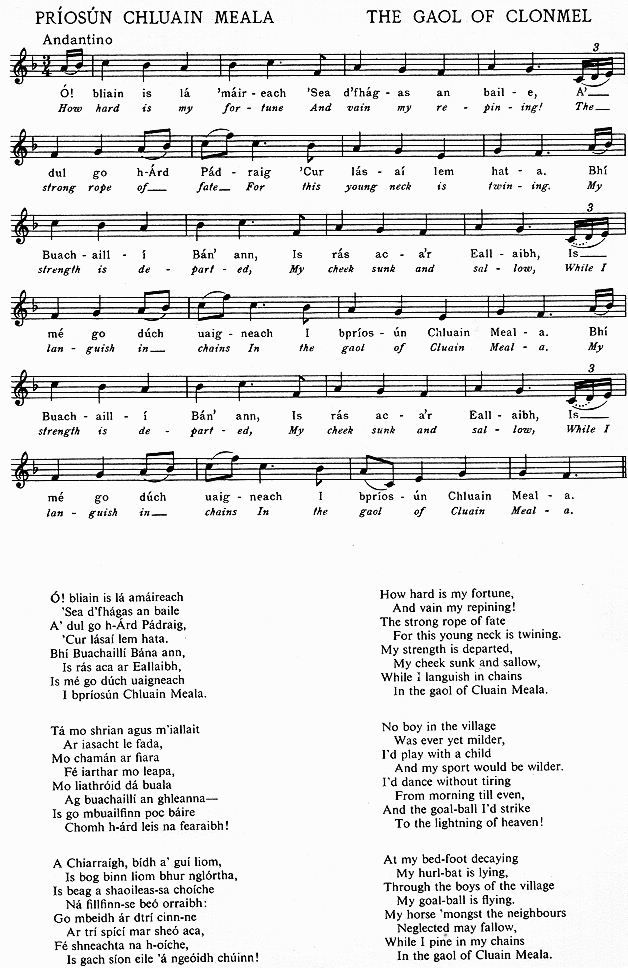 To return to the top click here
---

Seán O' Duir A' Ghleanna/John O'Dwyer of the Glen


To return to the top click here
About the Irish Famine of 1845-1849. It was composed in the 1970s by Pete St. John of Inchicore. First recorded by Danny Doyle
he Fields of Athenry
By a lonely prison wall, I heard a young girl calling
"Michael, they have taken you away,
For you stole Trevelyan's corn,
So the young might see the morn.
Now a prison ship lies waiting in the bay."

Chorus:
Low lie the fields of Athenry
Where once we watched the small free birds fly
Our love was on the wing
We had dreams and songs to sing
It's so lonely round the fields of Athenry.

By a lonely prison wall, I heard a young man calling
"Nothing matters, Mary, when you're free
Against the famine and the crown,
I rebelled, they cut me down.
Now you must raise our child with dignity."

By a lonely harbor wall, she watched the last star fall
As the prison ship sailed out against the sky
For she lived to hope and pray for her love in Botany Bay
It's so lonely round the fields of Athenry.
---
Ho brother Teague, dost hear de decree?
Lilli burlero, bullen a la (insert every other line) Dat we shall have a new deputie,

CHORUS: Lero, lero, lilli burlero,
Lilli burlero, bullen a la
Lero lero, lero lero,
Lilli burlero, bullen a la.

Ho, by my Soul, it is a Talbot;
And he will cut all de English throat,
Though by my soul, de English do prate,
De law's on dere side and de divil knows what,
But if Dispense do come from de Pope,
We'll hang Magna Carta and demselves on a rope.
And de good Talbot is now made a Lord,
And with his brave lads he's coming aboard.
Who all In France have taken a swear,
Dat day will have no Protestant heir.
O but why does he stay behind?
Ho, by my soul, 'tis a Protestant wind,
Now that Tyrconnel is come ashore,
And we shall have Commissions galore.
And he dat will not go to de Mass,
Shall be turned out and look like an ass,
Now, now de hereticks all will go down,
By Christ and St. Patrick's the nation's our own.
Dere was an old prophecy found in a bog,
Dat our land would be ruled by an ass and a dog.
So now dis old prophecy's coming to pass,
For James is de dog and Tyrconnel's de ass.

Note: This immensely catchy tune first turned up in 1641 in Ulster. In 1688, King James II designated Colonel Richard Talbot, a Catholic, as Earl of Tyrconnel and sent him to Ireland as Lord Lieutenant. This enraged the English and Irish
Protestants, who took up this song-"For James is de dog and Tyrconnel's de ass"-as their protest. It's been claimed that this tune "whistled James from the throne of England." A nice, if apocryphal, line.

X: 7
T:Lilliburlero!
M:8/8
L:1/8
C:Traditional
S:Lilliburlero!
K:G
D|GAGB2B|ABAc3|
BdGc2B|AGFG3|GAGB2B|
ABAc3|BdGc2B|AGFG3|
g2de2d|g2de2d|defgfe|
dcBA3|dcBABc|dcBABc|
BdGc2B|AGFG2:|
To return to the top click here

---


Dolly's Brae Version2

'Twas on the twelfth day of July in the year of '49
Ten hundreds of our Orangemen together did combine,
In the memory of King William, on that bright and glorious day
To walk all round Lord Roden's park, and right over Dolly's Brae.

And when we came to Westbridge, wasn't that a glorious sight
To see so many Orangemen all willing for to fight,
To march all round the old remains, the music so sweetly did play,
And the tune we played was "The Protestant Boys" right over Dolly's Brae.

And as we walked along the road not fearing any harm,
Our guns all over our shoulders, and our broadswords in our hands,
Until two priests came up to us, and to Mr. Speers did say,
"Come, turn your men the other road, and don't cross Dolly's Brae.

Then out bespeaks our Orangemen, "Indeed we won't delay,
You have your men all gathered and in a manger lay.
Begone, begone, you Papist dogs, we'll conquer or we'll die
And we'll let you see we're not afraid to cross over Dolly's Brae.

And when we came to Dolly's Brae they were lined on every side
Praying for the Virgin Mary to be their holy guide;
We loosened our guns upon them and we gave them no time to pray,
And the tune we played was "The Protestant Boys" right over Dolly's Brae.

The priest he came, his hands he wrung, saying, "My brave boys, you're
dead,
Some holy water I'll prepare, to sprinkle on your heads,"
The Pope of Rome he did disown, his heart was grieveful sore,
And the Orange cry, as we passed by, was "Dolly's Brae no more!"

Come all ye blind-led Papists, wherever that ye be,
Never bow down to priest or Pope, for them they will disown;
Never bow down to images, for God (you must) adore,
Come, join our Orange heroes, and cry "Dolly's Brae no more".

There was a damsel among them all, and one we shall adore,
For she wore the Orange around her head and cried "Dolly's Brae no more!"
And if they ever come back again, we'll give them ten times more,
And we'll christen this "King William's Bridge", and cry "Dolly's Brae no
more."

From The Voice of the People, Mulcahy and Fitzgibbons
Note: Dolly's Brae is a pass in County Down. The song refers to a fight
between Orangemen and Ribbonmen. M &


Dolly's Brae Version 1

Being on the 12th day of July, eighteen and forth-nine
The pagans of this country together did combine,
To shoot and slay our Orangemen upon that glorious day,
They did encamp in thousands great at a place called Dolly's Brae

Lord Roden was Grand Master of the Orangemen just then,
No better chieftain could be found among the sons of men:
To humanists he would not yield, nor any Popish foe.
He firmly stood like Joshua on the plains of Jericho.

He sent an invitation to Rathfriland Orange corps,
To come and spend the day with him at sylvan Tollymore
The Orangemen they did obey their noble chief's command:
So over Dolly's Brae they marched, a loyal, stalwart band.

The sun did shine with splendor in a bright and cloudless sky,
Our drums did beat and fifes did play, and Orange flags did fly,
Each loyal son, with sword and gun, was ready for the fray,
Had the rebel hordes attacked us going over Dolly's Brae.

Priest Mooney and Priest Murphy went through the rebel lines,
Distributing the wafer god among the Phillistines;
Priest Mooney cursed the Orangemen with candle, book and bell,
While the rebel crowd did cry aloud, "We'll drive them all to hell."

But still the Orangemen marched on thru Castlewellan town,
Brave Jordan being in command, he feared no Popish frown,
He nobly led his brethren on like William, Prince of yore,
Until they reached the entrance gate of sylvan Tollymore.

A splendid arch that gate did span which we all passed thru,
And in the center of the arch these words appeared in view;
"Welcome all to Tollymore, this day we gladly join,
To commemorate and celebrate the victory of the Boyne".

Lord Roden gave a brief address, and then to us did say,
"Beware, my Orange brethren, going home by Dolly's Brae,
Give no offense to any man as you're returning home,
But don't look shy when passing by those pagan troops of Rome".

We loudly cheered for Roden then and for the British Crown;
Slieve Donard sent the echo back o'er Castlewellan town.
The pagans heard our loyal cheers, as they lay on the hill,
Awaiting there, like hungry wolves, our Orangemen to kill.

We formed in full procession and unfurled our flags once more;
We bade adieu to all the friends we left at Tollymore.
With fifes and drums and loaded guns we gaily marched away.
Resolving to defend ourselves going home o'er Dolly's Brae.

With courage strong we marched along thru Castlewellan town,
And when we reached the Boretree Hill, a messenger came down.
He says, "Prepare both front and rear, attend to what I say.
A hot reception you will get before you're o'er the Brae.

As o'er the Brae we did proceed, the road being very bare,
The Ribbonmen advantage took and fired upon our rear;
Like lions stout we wheeled about, with powder and with ball,
The volley we sent into them caused scores of them to fall.

The battle it raged loud and keen along the mountain-side,
To save ourselves, as best we could, our ranks we opened wide;
The volleys from the rebel guns had no effect at all,
For not a man among our ranks fell by a Papish ball.

As fearlessly we charged them, their terror it was great,
Thru rocks and whins, to save their shins, they beat a fast retreat
The Coolagh tykes threw down their pikes and boldly ran away,
And cursed the day they came to fight at fatal Dolly's Brae.

The battle being over, the glorious victory won.
We reached our homes that evening by the setting of the sun,
Our wives and sweethearts met us, returning home that day;
With shouts of joy they greeted us safe back o'er Dolly's Brae.

So now my song I mean to end, my pen I will throw down,
I say success to every man supports the British Crown,
And generations yet unborn shall sing this loyal lay,
And speak of those that beat their foes at famous Dolly's Brae.

This is one of the several versions of the song. Dolly's Brae is a steep road with a difficult pass
which on 12 July 1848 was occupied by a large assembly of Ribbonmen intent on stopping by
violence the traditional march of Orangemen to
Tollymore. To prevent trouble the Orangemen avoided the Brae that year, a concession
which merely allowed the jubilant Ribbonmen to circulate songs deriding the Orangemen
for their supposed cowardice. Confrontation the following year was
inevitable: indeed the triumphant Ribbonmen sent a letter to a magistrate, George Shaw,
challenging both police and soldiers to meet them on the Brae and boasting that it would
be the last Twelfth on which the Orangemen would walk through
their country. The Orangemen got through to Castlewellan and held their demonstration but,
on their returning over the Brae, they were ambushed. The first shots were fired
by the Ribbonmen but the Orangemen were well prepared and on
returning the fire killed about 30 Ribbonmen without loss to themselves.
The Government, no friend of Orangeism or of the right of the Orangemen to march,
used the Dolly's Brae affray as the excuse for the passing of the Party Processions
Act a biased piece of law which penalized Protestants while ignoring the antics
of the nationalists.

X: 2
T:Dolly's Brae
M:4/4
L:1/8
Q:120
C:Trad.
S:#16 P.46 Lilliburlero!Vol-2,The Ulster Society
K:C
E/2E/2|E2EC2E|G2GE2|G|c2c dcB|c4|B|A2AABc|G2GE2|G|AFDC2C|C4|C|E2EC2E|G2GE
2|G|A2DD2D|D4|CD|E2EC2E|G2GE2|G/2G/2|c2c dcB|c4||B|A2A ABc|G2GE2|G/2G/2|
AFDC2C|CC4:||




To return to the top click here
---


The Green Grassy Slopes

Some folks sing of mountains and valleys
Where the wild flowers abundantly grow,
And some of the wave-crested billows
That dash 'neath the waters below.
But I'm going to speak of a river,
And I hope in the chorus you'll join--
Of the deeds that were done by King William,
On the green grassy slopes of the Boyne.

CHORUS:

On the green grassy slopes of the Boyne,
Where the Orangemen with William did join,
And fought for our glorious deliv'rance
On the green grassy Slopes of the Boyne
On the banks of that beautiful river,
There the bones of our forefathers lie,
Awaiting the sound of the trumpet
To call them to glory on high.
In our hearts we will cherish their memories,
And we all like true Brethren will join.
And praise God for sending us King William,
To the green Grassy slopes of the Boyne

CHORUS

Orangemen will be loyal and steady,
For no matter what'er may betide,
We will still mind our war-cry "No Surrender!"
So long as we've God on our side,
And if ever our service is needed.
Then we all like true Brethren will join,
And fight, like valliant King William,
On the green grassy slopes of the Boyne

CHORUS

X: 8
T:The Green Grassy Slopes
M:4/4
L:1/8
Q:120
C:Traditional
S:The Orange Lark
K:F
EF|G2 G/2G G2 c/2B| BAA2
E/2F |G2GGG2 c\2B|A6
AB|c2dcBAGF|EDD4
d2|c2AFC2EG|F6
EF|G2G/2GG2cB/2 |BAA4
EF|G2GGG2 cB/2 |A6
AB/2|c2dcBAGF|EDD4
dd|c2AFC2EG|F6|
EF|G2GGG2 cB/2 |A6
EF|GGGGG2 cB/2 |A6
AB|c2dcBAGF|EDD4
dd|c2AFC2 DE/2 |F6|:||
---

To return to the top click here
THE SASH MY FATHER WORE

Sure l'm an Ulster Orangeman, from Erin's isle I came,
To see my British brethren all of honour and of fame,
And to tell them of my forefathers who fought in days of yore,
That I might have the right to wear, the sash my father wore!

cho: It is old but it is beautiful, and its colors they are fine
It was worn at Derry, Aughrim, Enniskillen and the Boyne.
My father wore it as a youth in bygone days of yore
And on the Twelfth I love to wear the sash my father wore

For those brave men who crossed the Boyne have not fought or died in vain
Our Unity, Religion, Laws, and Freedom to maintain,
If the call should come we'll follow the drum, and cross that river once more
That tomorrow's Ulsterman may wear the sash my father wore!

And when some day, across the sea to Antrim's shore you come,
We'll welcome you in royal style, to the sound of flute and drum
And Ulster's hills shall echo still, from Rathlin to Dromore
As we sing again the loyal strain of the sash my father wore!

This could well be the best known Orange song
To return to the top click here

---
The Merry Plowboy


To return to the top click here

---

To return to the top click here
---

Four Green Fields


To return to the top click here

---
I was born on a Dublin street where the Royal drums do beat
AAnd the loving English feet they tramped all over us,
And each and every night when me father'd come home tight
He'd invite the neighbors outside with this chorus:
cho: Oh, come out you black and tans,
Come out and fight me like a man
Show your wife how you won medals fown in Flanders
Tell them how the IRA
Made you run like hell away,
From the green and lovely lanes in Killashandra.
Come let me hear you tell
How you slammed the great Pernell,
When you fought them well and truly persecuted,
Where are the smears and jeers
That you bravely let us hear
When our heroes of sixteen were executed.
Come tell us how you slew
Those brave Arabs two by two
Like the Zulus they had spears and bows and arrows,
How you bravely slew each one
With your sixteen pounder gun
And you frightened them poor natives to their marrow.
The day is coming fast
And the time is here at last,
When each yeoman will be cast aside before us,
And if there be a need
Sure my kids wil sing, "Godspeed!"
With a verse or two of Steven Beehan's chorus.
To return to the top click here
---