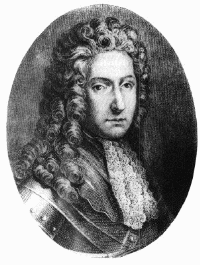 Patrick Sarsfield (Earl of Lucan)
Born in County Dublin Ireland and died in August 1693 in Huy Austrian Netherlands. He was a Jacobite soldier. He is a hero of Irish national tradition. His grandfather was also a rebel- RoryO'Moore lead Irish Catholics against the English in 1641.(the attack which antagonized England and brought about the invasion of Cromwell). Sarsfield served in the army of King Louis XIV of France from 1671-1678 then after James accession to the English throne in 1685 he helped Jame's commander in Ireland,Richard T albot (later earl of Tryconnell) to purge Protestants from the Irish Army. When James was deposed and left for France in 1688 Sarsfield went with him there and later to Ireland.
In the early months of the war against William III Sarsfield distinguished himself. He was a cavalry commander and later was promoted to major general. At the Battle of the Boyne Sarsfield rallied the defeated army led the defense of Limerick and an attack on William's artillery train at Ballyneety. Sarsfield was responsible for the negotiation of the treaty of surrender at Limerick (October 1691) and then joined the army of Louis XIV in the Spanish Netherlands where he was killed fighting the English at Neerwinden, near Landen, on August, 19, 1693.
The war that proceeded immediately following the surrender of James and the end of his revolt might well be called: Sarsfield's war. It is interesting to note that the same family is responsible for leading the Irish people into two disasters. First the revolt of 1641 and then "Sarsfield's war following the battle of the Boyne. Thus Patrick and his grandfather Rory O'Moore are responsible for motivating both Cromwell and the intensification of the Penal Laws following the Treaty of Limerick. One wonders why the Irish people followed such ruthless war lords in their support of absolutism and power?
---

To return to the Cast of Characters Page click here
To return to the Main Menu of the Orange Pages click here
Oranje boven!!!!!