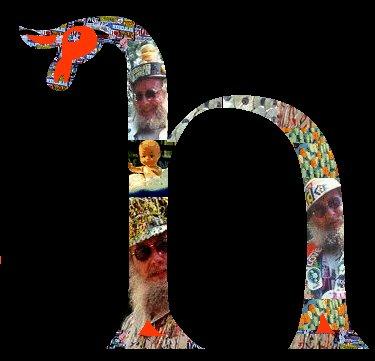 Magnet Truck Phase 1 Expermmental Magnetry

For the Last ride of the Magnet Truck in 2013 click here

To view images of Magnet Truck Click here!!!!!!! And the beginning was magnets....A brand new truck we were told it was not to be an artcar by my wife....my daughter Margaret thought otherwise and figured that magnets were not permanent created the art and surprised her mother. But her mother told her whatever she wanted...so we began the voyage..Of course being told that large magnets on trucks would not work by cartists on the internet simply gave us a push down the hill.... Magnet truck is a GMC Sierra Extended Cab Pick Up which is generally totally covered in magnets. These range from the free magnets given away by politicians to fruit and veg magnets, magnets in other shapes- bumble bees for example and letter magnets. We have also used stick on business card magnets covered with contact paper and then inscribed with letters and phrases. We now have artshapes and car dots and three dimensional figures- barbies and dolls....wow!

We could stop with wow! and that would be enough for many people but, we think we can do more- we know we can do more! In the presence of the wow education is so easy. We use the truck to teach the elements of design, the history of decorated vehicles, the artistic process: materials, technology etc. We also teach about language arts and how magnets work. While learning people can also make things which they can take home! Those not learning can still Wow! interact!
If you want something we have not mentioned please e.mail us and we can make arrangements to provide! Always willing to try! As for cost? Well.............let you know what you have and we will tell you what we can do. We pledge ourselves to be fair, optimistic and generous. You can e.mail us! just click here!

The archival account follows
Magnet Truck is designed to be read and to be re-arranged! We encourage viewers to read the truck and make phrases of their own. This year, 1999 we shall be start taking Magnet Truck around to schools where students have practiced sentence construction in their classrooms by writing sentences which express their feelings about the millennium. These are then placed on the truck using magnets and then the truck is photographed, the sentences written down and placed in a book and the truck is taken to a local community spot to be read by the public. It is then driven around until the next event. Read our extensive proposal for the project by clicking here. If you would like your school to take part please send us an e.mail click here.To view images of Magnet Truck Click here
The Magnet Truck Millennium Project
Language Arts, Reading Composition, Art, History, Social Studies....
You name it and your students will benefit from this amazing project
click here to go to the proposal! We also can use the Magnet Truck
as the centerpiece for a wonderful library program!
The Magnet Truck is:
A breakthrough in temporary or reversible and interactive/instructional artcar design.
We have made great progress with materials and composition. This is a truly interactive artcar.
Yes! We finally have images of Magnet Truck! This art truck is covered with magnets of all kinds with an invitation to re-arrange the letters and put your own
expression On the Road! We have added doll faces, cds and cardots for the little ones! We are constantly in need of replacement magnets! Magnet truck is a
literacy project which will be used to help students learn how to construct sentences. They will be asked to compose sentences concerning the Millennium and their
thoughts on the year 2,000. These will then be installed on the truck and the truck put on display near the school for all to see. We will make a book of the sentences
and record the comments of those viewing them. The truck will remain set up until its next stop. If you are interested in having the Magnet truck stop by your school
please let us know. click here to go to the proposal!
We have found that the best way to place letters on magnets is to use the self adhesive magnets made for business cards and to stick contact paper onto the sticky
surface. For writing we have selected marks a lot markers as we were having difficulty with sharpies fading in the sun over a short period of time. We have also
found that most refrigerator magnets will withstand high speeds- especially fruit and veg magnets. We have also had good luck with children's plastic letter magnets.
We are now working with strip magnets which will let us use space more efficiently for the composition of sentences. If you have extra cds please send them to us!
We attach magnets to them and they are really wonderful for brightening things up. If any one considers the literacy project worthy we invite donors to cover costs.