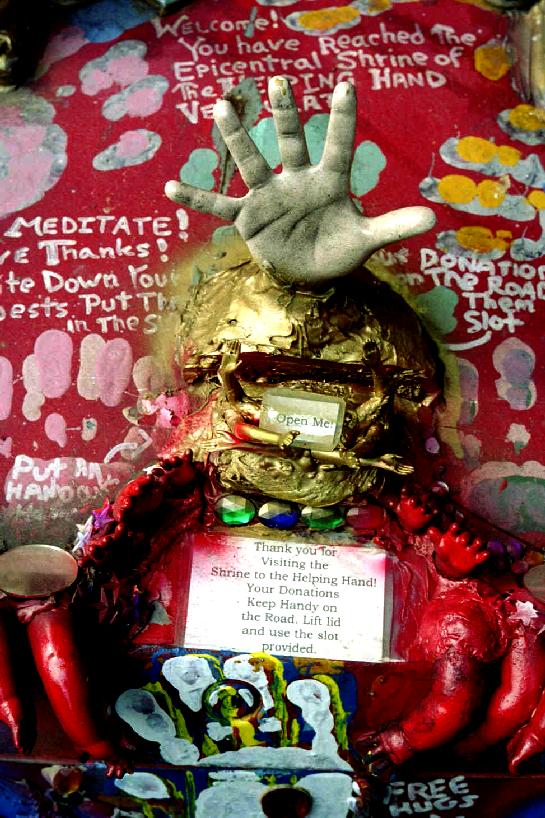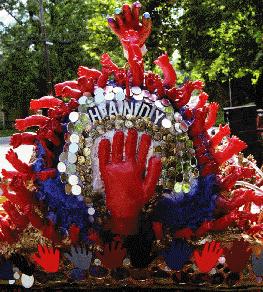 These days there seems not to be enough help in this world.....
.....people lock themselves away....
.....we become more isolated as help fades and people ration their time...
H a n d y is a vehicular shrine designed to make a difference!
Handy is a car that literally embraces you!
Click here to discover how....click for some music to go with HANDY!





























It is a place where helping hands can be remembered and requested. Messages can be placed through a slot in the trunk lid. Handy has a motto: Never underestimate the value of the helping hand. This motto will soon be inscribed on the shrine. Handy is still a work in progress. Already votive images have been placed on the grotto and it has become encrusted with gold buttons as have the cuffs of the outstretched helping hands. An amber flashing police light illuminates the grotto at night and projects an image of a hand through a pierced sheet metal plate in the front. Handy is Dedicated click to find out how!





Handy is dedicated to
the Father of the Blues W.C. Handy. He wrote the
St. Louis Blues
I loves dat man lak a schoolboy loves his pie,
Lak a Kentucky Col'nel loves his mint an' rye.
I'll love ma baby till the day ah die.
Wherever the shrine goes there is the music of W.C. Handy and the music of hands. Quotations about hands weave in and out of the hand prints to further inspire visitors. See how HANDY reaches out to you by clicking here.




Handy Reaches out to you!
Come for a Hug!
Handy will always be there for you!
Always a friend in need!
Can we help you by working with your cause or promotion or at your event? click here to e.mail.

Stop in again. For Handy Quotes Click Here!
For Handy Music Click Here


To return to the top click here.

To return to Hutman Artcars click here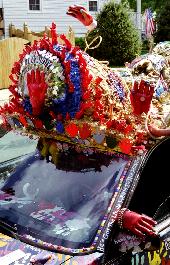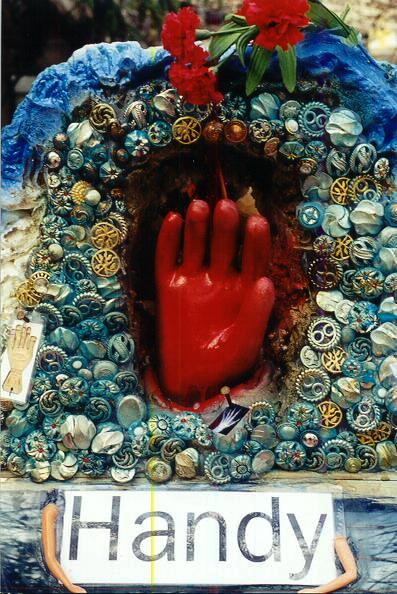 The Shrine Online - Handy Will Hear You!
When you visit the shrine Vehicular you can place requests into the slot in the trunk. They will eventually find their way here where local agencies will be asked to check for them from time to time. If you wish you may take this opportunity to meditate upon the helping hand and send in your request or testimonial by e.mail. These will be printed out and placed in the trunk slot or if good weather will be pinned to the shrine on display for a time before being placed in the slot. Your choice. Let us know how you would like your communication to be treated. If you want to have things private simply send the communication anonymously. We will delete the e.mail address. You may also send us your donations. Your financial assistance makes the shrine possible. We are an important link of help which people of all kinds can utilize in the parking lot where they happen to be in order to give thanks and request assistance. Your donations help us pay the bills. We will forward all requests to the blog: Just click here! and to participating helpful agencies. Are you a local helping agency that would like to take advantage of the power of Handy to reach people? If so click here
Never Underestimate the Power of the Helping Hand!
To e.mail us: click here
For Financial Donations: Make check or Money order Payable to Hutman Productions and send to: Hutman Productions PO 268 Linthicum, Md. 21090
We are not yet a non profit but we are working on it.
J
To return to the top click here
To return to Hutman Artcars click Here
Local Agencies and Donors

We welcome your participation in our project. Handy is right there on the street in the parking lots. Those in need can easily and without formality place their requests and communications into the slot in the trunk. Handy provides a valuable link between helping agencies and donors and the people they wish to identify and serve.
Helping the people reached by Handy is as easy as reading the guest book on this page. Just click here:
To See Requests
Please stop by frequently to check the blog click here
Hutman Productions is responsible for keeping Handy on the road. Maintenance is a big expense and the artwork will also create expenses as it expands and develops. We are not a non-profit organization but we will be glad to accept any donations of materials, services or funds which you might be able to provide. We will gladly give you credit on this web page and on the car itself and we will work with you to attend functions which you have an interest in. We count on your generous support to keep Handy's helping hands working.
Thank you in advance!
You may send your contributions to: Hutman Productions, PO 268 Linthicum, Md. 21090 to contact us: click here to e.mail
To return to the top click here
To return to Hutman Artcars click Here
---




THE END OF HANDY 7/31 2014
WAKE PHOTOS CLICK
Dead for a few years time had come....art is being recycled onto Handy Truck click here




THE WAKE

To return to the top of this page click here!
Contact: e.mail: cbladey@verizon.net Phone: 410-789-0930, Postal: 402 Nancy Ave. Linthicum, Md. 21090